Kenan Atabay, MD, Yener Demirtas, MD, Suhan Ayhan, MD, Osman Latifoglu, MD, and Cemalettin Celebi, MD.
Introduction: Neuropathic toe ulcers of diabetic patients have been a challenge for reconstructive surgeons and it is a common practice to treat the soft tissue defect conservatively, to apply a skin graft or to amputate the digit. Because, random local flaps seldom provide an adequate amount of tissue to cover these defects. Diabetic foot ulcers, once established, rarely heal spontaneously and surgeons usually fail to achieve a stable coverage with grafts. Presented here is our experience with modified homodigital reverse flow island flap for reconstruction of the great toe in diabetic patients. The results were encouraging. Material and Methods: Four patients having diabetic ulcers of great toe were reconstructed using homodigital island flaps perfused by reverse flow through the dorsal distal arcade. Lesions were present for 3 to 9 months (mean: 5 months) and were previously treated by conservative dressing changes or skin graft attempts which were unsuccessful. The flap is planned over the dorsomedial aspect of the great toe and following debridement of the wound, elevated in the plane superficial to the paratenon of the extensor tendon. The distal part of the flap is incised only to the subdermal level and the skin is elevated to the nail bed if needed (Figure 1). The flap is transposed into the defect and the donor site is grafted. Digital neurovascular bundle is protected. Results: Two flaps healed with excellent results (Figure 2). One of the flaps suffered venous congestion leading to epidermolysis but healed without a second surgery. An infection caused a partial loss in the last flap and the graft in the donor site. Skin graft was needed for both the recipient and the donor sites in this case. Three donor sites healed uneventfully. The results were quite satisfactory in three of the patients with a mean follow-up of 6 months.   Conclusion: This is a reverse flow flap with acceptable donor site morbidity and the blood supply is via the distal arcade of the distal arteries which is located just proximal to the nail bed. It was originally described by Niranjan and Vanstralen in 2000 for postexcisional or traumatic wounds of the great toe but no data exists regarding its use in diabetic ulcers. We applied the flap in neuropathic toe ulcers of diabetic patients with satisfactory outcomes and strongly recommend this reconstructive alternative in the management of the lesions in this difficult localization.

Figure 1:
The flap is elevated and ready for inset.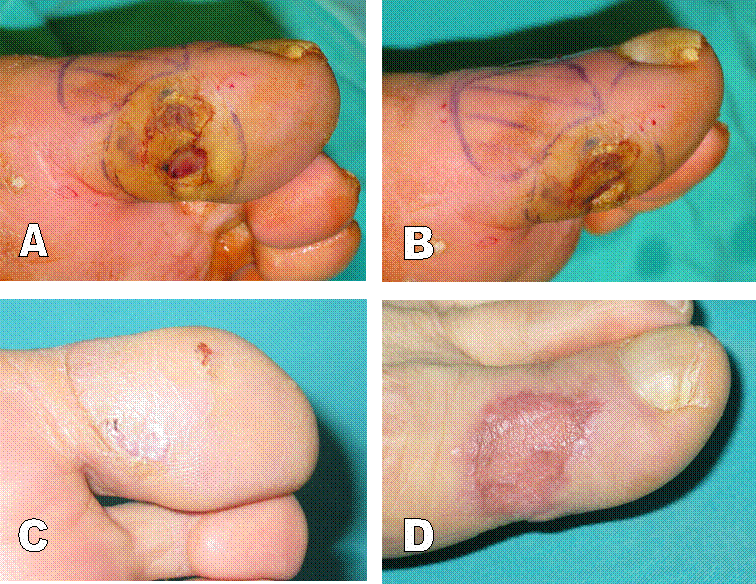 Figure 2: A; neuropathic ulcer in the great toe of a diabetic patient. B; the flap and the pedicle are marked out. C; final result of the flap and D; the donor site eight months after the procedure.
View Synopsis (.doc format, 97.0 kb)