Richard Agag, MD, Mark S Granick, MD, and Sai S Ramasastry, MD.
The authors have observed a trend in the reconstructive plastic surgery literature during the past 10 years of decreasing number of contributions from the United States. A retrospective analysis was performed in order to analyze this possibility as well as to compare the nature of literature from the U.S. versus non-U.S. We examined all peer reviewed articles appearing in three primary United States plastic surgical journals over the past ten years in five year intervals. Utilizing EndnoteŽ software, we created a database from Plastic and Reconstructive Surgery, Annals of Plastic Surgery, and Journal of Reconstructive Microsurgery. Data complied included the country of origin, academic versus non-academic affiliation of the authors, as well as the general topic of the publication in the following categories: basic science, case report, hand, reconstructive, cosmetic, cranio-facial, breast, and other. The total number of articles reviewed was 1,532. 786 where selected from this group after being categorized as reconstructive, 215 in 1992, 263 in 1997, and 308 in 2002. Authors from 51 counties in addition to the United States participated to the fund of plastic surgery publications.
Analysis of the data confirms the observation that United States authors are progressively contributing less to the plastic surgery literature. In so far as our analysis of these three journals, there is a significant difference in the number of domestic authorships over the period of time examined (chi-square of 26.81 with 2 degrees of freedom, yielding a p<0.001).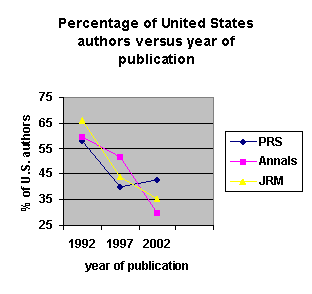 Considerable additional data demonstrates the nature of the shift in plastic surgical publishing. These include the distribution of categories, various national trends, and the impact of these changes on academic versus non-academic publishing.
The academic environment today more heavily relies on clinical revenue, increased administrative time in managing training programs, as well as increased amounts of paperwork reflecting the changes in medicare, HIPPA, and HMOs. Declining reimbursements, increased competition for cosmetic surgery cases with other specialties, and increasing pressure to generate academic salaries from clinical revenue has all led to the changes reflected in the literature over the past fifteen years. There is an economic disincentive in the United States to perform research and publish in a shrinking allocation of time. Many of the overseas physicians publishing in plastic surgery journals trained in the United States and subsequently developed training programs in their own countries. They are now in an increasing pool of non-U.S. plastic surgeons competing with U.S. plastic surgeons for the limited amount of publication space.